High Performance Materials

TORAYMICRON™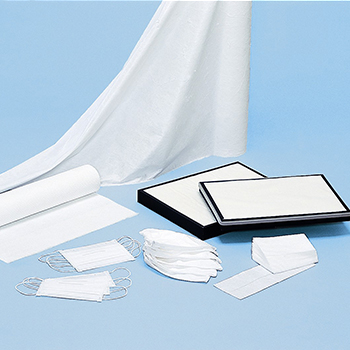 Ulutra-fine non-woven fabrics purify air and water
TORAYMICRON™ is a high performance, ISO-9001 certified, non-woven sheet made of special ultra-fine polypropylene fibers that are given electret properties through a specialized process.
TORAYMICRON™ is an indispensable component of various filters that generate clean environments and is also used in the production of industrial masks.
Characteristic of TORAYMICRON™
Filterring capability

Electric energy enables TORAYMICRON* to filter out micron dust particles in both air oil.

Adsorption property

Cigarette smoke and odors are efficiently adsorbed.

Dust removal ability

Electric charges powerfully remove everything from micron particles to dirt

Self-adhesiveness

TORAYMICRON™ can adhere to virtually material.

Superior durability

TORAYMICRON™ features persistent, long-term electrical.
Contact Us
High Performance Materials Sales & Marketing Dept.
2-3-1, Kanda-Sudacho, Chiyoda-ku, Tokyo 101-0041, Japan
TEL: +81-3-6859-1207  FAX: +81-3-6687-9896